Nurse Practitioner Job In Las Cruces, New Mexico
Seeking Nurse Practitioner in Bariatric Surgery - Southwestern New Mexico
Next Steps...
Apply Now
Register Now
Call Amanda Phillips, CPRP:
Sign in to view
Job Description
Memorial Medical Center in Las Cruces, NM is seeking a Nurse Practitioner for a Bariatric Clinic. Join a comprehensive, multidisciplinary team at Memorial Heartburn Center. The selected candidate will provide high-level oversight of the Heartburn Program and gastroesophageal reflux disease. This includes care from the initial patient point of contact to pre-surgical requirements, surgery, and post op follow-ups exceed patient expectations.
· Experienced clinician preferred.
· Primarily outpatient care only; occasional help with rounding on patients in hospital.
· Ideal candidate will have great communication skills and be team oriented, working collaboratively with the Medical Director and staff to identify the needs of the practice.
Memorial Heartburn Center is located in Las Cruces, New Mexico, which offers a quality of life few communities can match. A culturally diverse, growing city, Las Cruces, offers numerous social and cultural opportunities, endless outdoor recreational amenities, great public and private schools, and close proximity to several major southwest US cities.
Recruitment Package may include:
· Base salary + wRVU production incentive
· Quality bonus
· CME allowance
· Sign-on bonus
· Medical debt assistance
· Relocation allowance
· Health benefits + Retirement plan
· Marketing + practice growth assistance
EOE
Next Steps...
Apply Now
Register Now
Call Amanda Phillips, CPRP:
Sign in to view
Community Information
Located in the Mesilla Valley of southern New Mexico, Las Cruces is bounded to the west by wide-open desert and to the east by the majestic and beautiful Organ Mountains. Las Cruces is home to New Mexico State University and has been called the Santa Fe of the south, with a thriving community of artists and galleries. There are numerous vineyards in the area and connoisseurs can enjoy a wine tour through the lush valley along the Rio Grande River.
Las Cruces is host to a number of festivals throughout the year. The Whole Enchilada Festival features the world's largest enchilada - six feet across. The town hosts the Renaissance Arts and Crafts Fair, the Southern New Mexico State Fair, the Mesilla Valley Hot Air Balloon Rally, and the Wine and Chile Festival. The historic village of Old Mesilla, just minutes from Las Cruces, is one of the most historic sites in the Southwest. Famed outlaw Billy the Kid stood trial for murder in the town's courthouse on the village plaza.
Recreation
Sitting at an elevation of 3,900 feet above sea level, Las Cruces enjoys an enviable climate year-round, with 350 sunny days annually and less than 10 inches of rain and snow. The Organ Mountains National Monument offers numerous hiking and biking trails, picnic and camping areas.
White Sands National Monument is just 50 miles east of Las Cruces. The magnificent pure white gypsum dunes provide excellent recreational opportunities. Visitors can picnic, "white sand surf," or just stroll through a portion of the 275-square-mile national park. Hueco Tanks State Park, outside of El Paso, Texas, is 75 miles southeast of Las Cruces and offers hiking, rock climbing and world class bouldering. With about 500 birds on New Mexico's state bird list, those who appreciate bird watching will enjoy a variety of prime birding sites nearby and within an easy drive from Las Cruces.
Community Links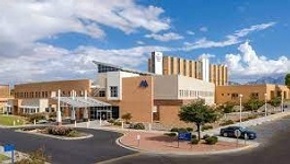 About Memorial Medical Center
Accredited by The Joint Commission (TJC), Memorial Medical Center is a licensed 199-bed acute care facility. The hospital offers a full range of comprehensive care including the latest in diagnostic, therapeutic and rehabilitative services, both on an inpatient and outpatient basis. Inpatient services include a new Cardiac Care Unit and Cardiac Cath Lab. Outpatient services include a comprehensive cancer program with radiation therapy at Memorial Cancer Center. Additional services are offered at Memorial HealthPlex, a free-standing outpatient surgery center that offers day surgery, diagnostic imaging and lab services in a convenient customer service-oriented setting. More than 1,300 employees and volunteers work closely with the medical staff, which includes 300 credentialed providers representing a full range of medical specialties.