Neurohospitalist Job In Columbus, Georgia
Neurohospitalist in Georgia Hotspot, Columbus
Next Steps...
Apply Now
Register Now
Job Description
About this Position
Employed opportunity Georgia's second largest city. St Francis Hospital is seeking to grow Neurology services in Columbus.
With a population of over two hundred thousand, the demand for services are high and lifestyle amenities of a large community are at your fingertips. Specialists are welcome to see where service lines may grow. This hybrid neurohospitalist opportunity requires roughly 25% time in outpatient clinic for follow up appointments and is available for a 2020 start date. This is a great opportunity to be part of a large hospital setting with the added support, stability and resources of a highly regarded national healthcare company. Expect a generous salary with uncapped bonus potential and financial package that includes sign on bonus, relocation, full benefits that include paid vacation, health, dental, life, std, ltd, 401K, CME and student loan assistance available.
Columbus, being located on the border of Georgia and Alabama, offers access to major metropolitan areas and universities. Atlanta 90 minutes northeast and Montgomery, Birmingham and Tuscaloosa to the east. Columbus itself has become a hub for culture, commerce and outdoor adventure on the banks of the Chattahoochee River.
About St. Francis-Emory Healthcare
Welcome to Columbus, a small town with a big city feel and one of the best places to live and raise a family.
The Hospital
Founded in 1950, St. Francis Hospital provides residents of Columbus and the surrounding region with a full range of inpatient and outpatient services at its 376-bed facility – which includes the St. Francis Heart Hospital and the Sue Marie Turner Women's Hospital – and its physician practices. It is home to the only open heart surgery program in the area.
The Community
Situated at the heart of the Chattahoochee Valley, Columbus is Georgia's second largest city and is located just 90 miles south of Atlanta. Residents and visitors enjoy big city amenities amid the charm and hospitality of this small southern town. Columbus is home to the Coca-Cola Space Science Center, the 15-mile Riverwalk along the Chattahoochee River, the National Infantry Museum, a number of fabulous eateries and the longest urban whitewater course in the world. Between its rich history and local culture and arts scene, Columbus has something for everyone.
EOE
Next Steps...
Apply Now
Register Now
Community Information
Located in western Georgia, Columbus overlooks the Chattahoochee River blending a vibrant artsy energy with a unique local history. Enjoy the outdoors, listen to local bands, or taste finely brewed beer - world-class experiences without an ego.
Community Links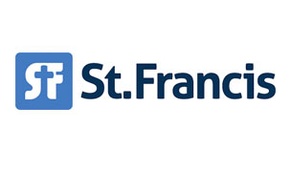 About St. Francis Hospital
Founded in 1950, St. Francis is a community hospital in Columbus, Georgia. What began as a 154-bed hospital is now a 376-bed facility employing more than 2,700 employees and 300 physicians. In addition to a full range of inpatient, outpatient and emergency room services, St. Francis offers the only open heart surgery program in the area.
Since the first patient was admitted in 1950, St. Francis has fervently served the community and region, providing outstanding, compassionate care from one generation to the next. Recognized as the area's finest health care provider, St. Francis continues to reach for the highest standards in quality and safety to offer its patients the best possible care.
In 2011, the hospital broke ground on its largest expansion project. Two years later, the St. Francis Heart Hospital and the Sue Marie Turner Women's Hospital opened, the latter of which brought obstetrical services back to the hospital.