Hospitalist Job In Richmond, Virginia
Hospitalist – Regional Traveling
Next Steps...
Apply Now
Register Now
Job Description
Success Happens When you Start With your People
Would you like an employer to move with you while retaining your vesting and benefits? In the last three years, Sound has supported the transition of over 150 providers across state lines while orchestrating a smooth transition and providing relocation allowances. As an employed traveling hospitalist (ambassador), you have the option to live in any city you like and travel within that region to multiple hospital programs. We have physician ambassador opportunities across the country!
What does it take to be a Sound Ambassador?
Excellent reputation as a clinician with strong diagnostic and a calm and rational approach to problem-solving
Exhibits Sound core values of service, teamwork, integrity, quality, and innovation
Highly adaptable to different work environments including varying program sizes and levels of sophistication
Must be internal medicine board certified with 3 years of experience as a hospitalist
What Matters to You
As a physician-founded and led organization, we know what matters to you. Trust, recognition, camaraderie, hassle-free onboarding are just a few gears we hang our hat on. Our model is designed to challenge the status quo and transform the acute episode of care. Sound Ambassadors will be paid above market compensation in consideration for their adaptability to working in various locations across a region.
Paid expenses for travel and housing
Excellent compensation with bonus structure including productivity and quality bonuses
Professional assistance with medical licenses and hospital privileging
Join a Collegial Practice Where you will thrive
When you join Sound, you join an organization that strives to be the unmatched leader in improving quality and reducing the cost of health care in the communities we serve. You will feel empowered to be creative and utilize your leadership skills to problem solve and drive improvement. Are you ready to reach your greatest human potential? Click the apply button to inquire about this role.
Practice in a variety of hospital and geographic settings with the necessary support & infrastructure to create a sustainable practice environment
Deliver quality care with collegial local teams that serve the community and each other
Utilize our sophisticated, web-based software application that facilitates communications and supports managing patient care
Compensation Range: $315,000- 346,750
EOE
Next Steps...
Apply Now
Register Now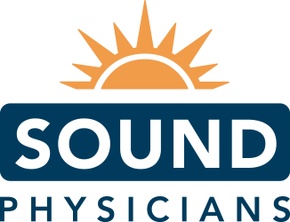 About Sound Physicians
We are dedicated to supporting our hospitalist and post-acute physicians in providing the very best quality care by partnering seamlessly with our partners. Physician founded, led, and managed, Sound Physicians has more than 1,800 hospitalist and post-acute physicians providing inpatient care to more than 180 hospitals and a growing number of post-acute care centers in 35 states across the U.S.
We recruit and retain the best doctors by creating a better career opportunity. Sound Physicians supports our physicians through manageable encounters, flexible schedules, and technology-driven processes that are designed by physicians to work for physicians. Through the SoundInstitute, we promote ongoing educational, professional and career development.