Family Medicine Job In Las Cruces, New Mexico
Seeking Family Medicine Core Faculty - Southern New Mexico
Next Steps...
Apply Now
Register Now
Call Erin Wainwright:
Sign in to view
Job Description
Memorial Medical Center is seeking a dynamic Family Medicine Faculty Physician to join its team. The program provides collaborative, multidisciplinary clinical care services, with a strong emphasis on social medicine. The faculty physician will work closely with the Program Director to coordinate and oversee all activities related to the development of the residency infrastructure, including curriculum development and the recruitment of residents. ***Must be Board Certified by ABFM.
•Community hospital; unopposed
•Established residency program with 7 core faculty physicians
•Oversight of outpatient primary care, office procedures, precepting, didactic teaching and resident mentoring
•Time will be spent 70% teaching/admin and 30% clinical
•Full spectrum family medicine care, including inpatient medicine and obstetric skills
•Interest in geriatric care is desired but not required
This position is an ideal choice for the provider who is looking to experience the best of Southern living. Las Cruces is the second largest city in New Mexico, surrounded by urban, small town or rural settings, with great public and private schools to complement your lifestyle and growing family needs. Close to the major metropolitan area of El Paso, you can easily enjoy big city amenities or the peaceful beauty and recreational opportunities located around the great outdoors the Mesilla Valley.
EOE
Next Steps...
Apply Now
Register Now
Call Erin Wainwright:
Sign in to view
Community Information
Located in the Mesilla Valley of southern New Mexico, Las Cruces is bounded to the west by wide-open desert and to the east by the majestic and beautiful Organ Mountains. Las Cruces is home to New Mexico State University and has been called the Santa Fe of the south, with a thriving community of artists and galleries. There are numerous vineyards in the area and connoisseurs can enjoy a wine tour through the lush valley along the Rio Grande River.
Las Cruces is host to a number of festivals throughout the year. The Whole Enchilada Festival features the world's largest enchilada - six feet across. The town hosts the Renaissance Arts and Crafts Fair, the Southern New Mexico State Fair, the Mesilla Valley Hot Air Balloon Rally, and the Wine and Chile Festival. The historic village of Old Mesilla, just minutes from Las Cruces, is one of the most historic sites in the Southwest. Famed outlaw Billy the Kid stood trial for murder in the town's courthouse on the village plaza.
Recreation
Sitting at an elevation of 3,900 feet above sea level, Las Cruces enjoys an enviable climate year-round, with 350 sunny days annually and less than 10 inches of rain and snow. The Organ Mountains National Monument offers numerous hiking and biking trails, picnic and camping areas.
White Sands National Monument is just 50 miles east of Las Cruces. The magnificent pure white gypsum dunes provide excellent recreational opportunities. Visitors can picnic, "white sand surf," or just stroll through a portion of the 275-square-mile national park. Hueco Tanks State Park, outside of El Paso, Texas, is 75 miles southeast of Las Cruces and offers hiking, rock climbing and world class bouldering. With about 500 birds on New Mexico's state bird list, those who appreciate bird watching will enjoy a variety of prime birding sites nearby and within an easy drive from Las Cruces.
Community Links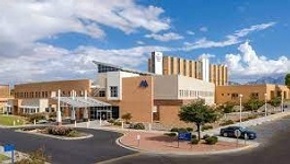 About Memorial Medical Center
Accredited by The Joint Commission (TJC), Memorial Medical Center is a licensed 199-bed acute care facility. The hospital offers a full range of comprehensive care including the latest in diagnostic, therapeutic and rehabilitative services, both on an inpatient and outpatient basis. Inpatient services include a new Cardiac Care Unit and Cardiac Cath Lab. Outpatient services include a comprehensive cancer program with radiation therapy at Memorial Cancer Center. Additional services are offered at Memorial HealthPlex, a free-standing outpatient surgery center that offers day surgery, diagnostic imaging and lab services in a convenient customer service-oriented setting. More than 1,300 employees and volunteers work closely with the medical staff, which includes 300 credentialed providers representing a full range of medical specialties.