CRNA Job In Nashville, Tennessee
Certified Registered Nurse Anesthetist (CRNA) – Regional Traveling
Next Steps...
Apply Now
Register Now
Company:
Sound Physicians
Profession/Specialty:
CRNA
Location:
Nashville

,

Tennessee
Job Type:
Independent Contractor
Job Description
Success Happens When You Start With Your People
Would you like an employer to move with you while retaining your vesting and benefits? In the last three years, Sound has supported the transition of over 150 providers across state lines while orchestrating a smooth transition and providing relocation allowances. As an employed traveling CRNA (ambassador), you have the option to live in any city you like and travel within that region to multiple hospital programs. We have physician ambassador opportunities across the country!
Sound CRNA  Ambassadors will be paid above-market compensation in consideration for their adaptability to working in various locations across a region. This will require a high degree of flexibility and communication with Sound's team. It is Sound's expectation that the Sound Ambassador will be credentialed to work at some and potentially all sites within a geographic region. Furthermore, Sound Ambassadors should anticipate working at one site for approximately 6-9-12 month intervals coinciding with calendar quarters where possible. On rare occasions, physicians may be asked to split time between two locations but typically within a short driving distance and/or within the same system.
What does it take to be a Sound CRNA Ambassador?
Excellent reputation as a clinician with strong diagnostic and a calm and rational approach to problem-solving
Exhibits Sound core values of service, teamwork, integrity, quality, and innovation
Highly adaptable to different work environments including varying program sizes and levels of sophistication
What Matters to You
Medical programs excel when they have teams that are provided with consistent development opportunities and the resources they need to support their well-being. All of our clinicians attend an in-person onboarding session to not only align our vision and values but the values and goals of our hospital partners as well. In addition, we heavily invest in online and in-person development opportunities for our clinicians to help them reach their greatest potential.
Provide clinical services in multiple locations across a region; Perform at the top of your license!
Experienced and dedicated anesthesia leadership with over 30 years in the industry
Opportunity to work in a variety of practice environments
Leadership Pathway – grow with Sound Anesthesia
Fantastic compensation package + PTO + sign-on bonus
Full-time position with comprehensive benefits package, including 401K with match, CME, health, dental and vision, etc.
Paid expenses for travel and housing and malpractice & tail insurance provided
Access to our proprietary learning platform, SoundInstitute™, for continuing education, and professional development with convenient online and in-person educational courses, including CME
Join a Collegial Practice Where You Will Thrive
At Sound Physicians, we know that an engaged team stems from strong clinical leadership. Our leaders include board-certified clinicians who bring years of clinical and operational knowledge along with demonstrated success in the building and management of nationwide anesthesia practice. Their focus on establishing an anesthesia care team model where each clinician is valued and invested ensures that we can continue to improve the perioperative experience and decrease costs for our patients.
To drive volume while increasing the quality of patient care, Sound Physicians has taken a unique approach to anesthesia services. Our care-team model leverages both physicians and CRNAs to facilitate throughput in the OR and provide closer contact between anesthesia clinicians and patients. The result is better access to anesthesia resources, improved productivity, and enhanced patient experience.
What Sets Sound Apart
Expertise in performance management across the entire acute and post-acute episode of care
Our technology-forward, data-driven approach to improving patient experience
SoundMetrix, our proprietary analytics platform, provides real-time, risk-adjusted metrics and patient levels to optimize care
Sound's own workflow and communications platform that supports clinician and nursing workflows across care settings
EOE
Next Steps...
Apply Now
Register Now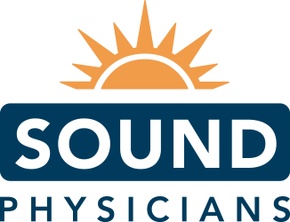 About Sound Physicians
We are dedicated to supporting our hospitalist and post-acute physicians in providing the very best quality care by partnering seamlessly with our partners. Physician founded, led, and managed, Sound Physicians has more than 1,800 hospitalist and post-acute physicians providing inpatient care to more than 180 hospitals and a growing number of post-acute care centers in 35 states across the U.S.
We recruit and retain the best doctors by creating a better career opportunity. Sound Physicians supports our physicians through manageable encounters, flexible schedules, and technology-driven processes that are designed by physicians to work for physicians. Through the SoundInstitute, we promote ongoing educational, professional and career development.