Internal Medicine Job In Ennis, Texas
Join our Team!
Next Steps...
Apply Now
Register Now
Job Description
Ennis Regional Medical Center, located south of the Dallas/Ft Worth Metroplex, is seeking a BC/BE Internal Medicine Provider for an outpatient clinic located on the hospital campus. The ideal candidate will be experienced and have a passion for serving in a smaller setting, be a self-motivator and be comfortable in a solo practice.
Ennis is conveniently located minutes south of Dallas along interstate 45. A charming downtown area has seen enormous revitalization in recent years, with a masterplan for even more. A number of festivals bring tourists from across the country, including the annual Polka Fest and the Bluebonnet Festival - where there are gorgeous bluebonnets dotting the roadsides. Nearby lakes offer abundant boating opportunities, and with its quick access to the DFW metroplex, it's country living with all the perks of the Big City right up the road.
Recruitment Package may include:
• Base salary + wRVU production incentive
• Quality bonus
• CME allowance
• Sign-on bonus
• Medical debt assistance
• Relocation allowance
• Residency stipend
• Medical Director stipend
• Health benefits + Retirement plan
• Marketing + practice growth assistance
EOE
Next Steps...
Apply Now
Register Now
Community Information
The Community
Welcome to a friendly, gracious community, just 30 minutes from downtown Dallas, but a world away from big-city cares. Located on Interstate 45, Ennis offers the very best of small-town living with all the amenities of a major metropolitan city just up the road.

Ennis offers multiple educational opportunities. No less than 13 public universities and five community colleges are located within a 45-minute drive of Ennis. The Ennis Public Library has 40,000 volumes, as well as a state-of-the-art audio-visual learning center.

Known as The Bluebonnet City of Texas (our rich green fields turn vibrant blue each spring), the city is host to the Ennis Bluebonnet Trails Festival each April, the largest such event in Texas, along with a Hot Air Balloon Festival. Ennis also hosts The Festival of Trains. Held each September, this two-day event offers music, arts and crafts, children's activity center, model train exhibits and train memorabilia. The Ennis Railroad and Cultural Heritage Museum is a fascinating collection of train memorabilia and historic photos. Ennis features a large Czechoslovakian population. The last weekend in May, the city hosts the National Polka Festival with a parade, colorful costumes, street dancing, Czech food and desserts, and traditional Polka bands. The Top of Texas Chili Cook Off provides a hot time each spring with dancing, country music, crafts and unforgettable chili; and the Texas Christmas Celebration & Festival of Lights kicks off the season the first weekend in December.

Recreation

Ennis offers an abundance of recreation and leisure opportunities. With more than 3,500 surface acres, Lake Bardwell attracts 500,000 visitors annually. This sparkling body of water offers skiing, fishing, swimming, boating and more. You can camp, picnic, or host a special gathering on the 1,800 acres and six parks surrounding the lake. Ennis offers 16 beautiful city parks covering more than 140 acres of land. The 47-acre Bluebonnet Park features eight lighted ball fields, six soccer fields, 10 acres of dedicated recreational open space, a two-acre fishing lake and a jogging path. The Lion Tennis Center, one of the finest public tennis facilities in the state, is owned and operated by the Ennis Independent School District and features nine championship-quality tennis courts (four indoors), an Olympic size pool, snack bar and pro shop.
Community Links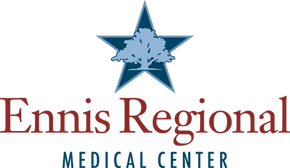 About Ennis Regional Medical Center
Ennis Regional Medical Center is a 60-bed acute-care facility. The hospital is Joint Commission accredited and offers an extensive list of services: 24-hr emergency care, ICU, obstetrics, radiography, ultrasound, CT, MRI, bone densitometry, mammography, orthopedic surgery, cardiac rehabilitation, inpatient and outpatient surgery, laboratory, nutrition counseling, physical therapy, speech therapy, occupational therapy, respiratory therapy, pharmacy and ongoing community education.