Pulmonary Critical Care Job In Wilmington, Ohio
Pulmonary/Critical Care Position near Cincinnati
Next Steps...
Apply Now
Register Now
Job Description
Clinton Memorial Hospital is in search for BC/BE Pulmonologist/Critical Care specialist to establish a practice in Wilmington, OH. The opportunity is for a combination of outpatient clinical pulmonary care and management of the 6 bed ICU at Clinton Memorial Hospital. Candidate would be available for critcal care services between 7a-7p Monday-Friday then would hand off to the Hospitalists. Candidate would also perform inpatient procedures. Candidate with Pulmonology/Critical Care fellowship preferred.
EOE
Next Steps...
Apply Now
Register Now
Community Information
Combining the best of small-town values with big-city accessibility, Clinton County is within easy commuting distance to the major metropolitan areas of Columbus, Dayton, and Cincinnati. Wilmington offers affordable living in a community that values family life, educational excellence, and professional opportunity. Wilmington's downtown is one of the National Register of Historic Districts and has also received designation as an Ohio Main Street Community, a program designed to preserve historic downtowns. Landmarks include the Murphy Theatre, Wilmington College, the Roberts Convention and Visitors Centre, and the country's largest privately owned airport.
With an abundance of state, city, and village parks, there are many opportunities for outdoor recreation. Walking and bike trails weave throughout the county, and there are plenty of lakes to fish, boat, and swim. There are three golf courses in Clinton County and many more in neighboring counties. A wide selection of shopping, restaurants, sports, and cultural events are easily accessible.
Community Links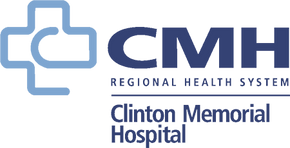 About Clinton Memorial Hospital
Clinton Memorial Hospital [CMH] makes a difference in people's lives every day. The hospital's focus is on more than healthcare—it's on patient care. It's about taking care of its friends, neighbors, and family. In an age when people across the country are working to make healthcare accessible and workable, CMH is a shining example of the way it should be.
CMH Regional Health System strives for excellence in all that it does. As a full-service health care organization, CMH is dedicated to improving the health and wellness of its community. Through the efforts of CMH, healthy, lasting relationships have been built not only with patients, but with the team of highly skilled and dedicated CMH affiliated physicians and employees as well.